ICE MOBILES
" Here to Serve ! "
In order to cater for every kind of show or event, 'Mister Nice Cream' is able to provide a fleet of Ice-Mobiles.
" Stop me and buy one! "
The largest of this fleet is the 'Ice-Mobile' which is equipped with an impressive high output triple flavoured dispensing soft ice cream machine, eight lid freezer and large chiller. Therefore, not only providing a choice of three flavoured soft ice cream, an ample selection of wrapped ice cream, but also a wide selection of ice cold chilled drinks and snacks alongside a professional service.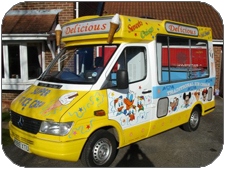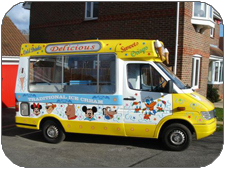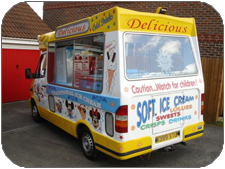 " Super Powered Ice Cream Silliness "
Next in line is 'Batman' who has been specifically modified for those shows and events requesting scoop served ice cream or alongside hot food and drinks. Unlike the 'Ice-Mobile', this vehicle is able to provide limitless flavours of scooped ice cream as well as the 'Nestle Ice Creamery' version of the soft ice cream which incorporates a further six possible flavours. Ample shelving provides a good selection of confectionery and drinks and the added counter space allows for the preparation of hot food, drinks and sandwiches (upon request).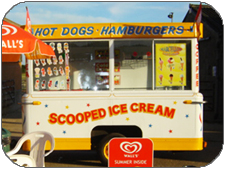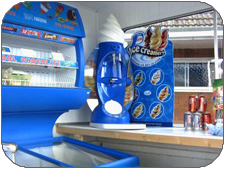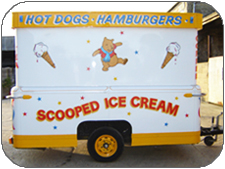 " The Ice Cream Experience "
The smallest and latest edition to our fleet is 'Robin'. A traditional and unique point of sale, which has proven popular with those shows and events with limited space or requesting a more conventional vehicle. Alongside this service, and so as to become really involved with the crowd, 'Mister Ice Cream' can provide their very own tailored husking representative(s) equipped with ice pack harbouring a selection of wrapped impulse ice cream (available upon request).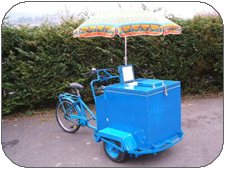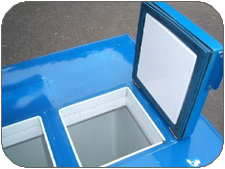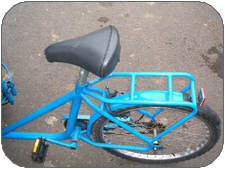 Rest assured, whatever size or location your show / event, we have a vehicle to match! For specific requests please contact us at least one week prior to your event by contacting us.
" Everyday's a Sundae! "