HOME - WELCOME !
'Mister Nice Cream' is the reliable and friendly 'Mobile Ice Cream Company' centred in Oxford , Oxfordshire and serving Wiltshire, Berkshire, Warwickshire, Gloucestershire, Buckinghamshire, Northamptonshire, Worcestershire, Bicester, Abingdon, Didcot and beyond!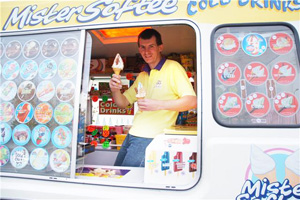 Hire an Ice Cream Van in Oxfordshire (Oxford) Buckinghamshire, Warwickshire, Gloucestershire, Berkshire, Wiltshire, Northamptonshire, Bicester, Worcestershire, Abingdon and Didcot - Mister Nice Cream is at your service in United Kingdom (UK)
Having many years experience in the Ice Cream trade, 'Mister Nice Cream' is the well established leader, offering ice cream services to Private Parties, Fetes, College Balls, Weddings, Corporate Events, Sporting Tournaments and Shows (of any size) throughout the Season. Mister Nice Cream has been serving quality ice creams since 2001. If you're looking for either of the following, you are certainly on the right website, Ice Cream Catering, Ice Cream Man, Van, Trike, Mobile or even, Icecream Oxford Catering in Oxford.
Possessing a fleet of 'Ice-Mobiles' and fully qualified and experienced staff, the Company provides a professional and personal service for every type of event; which can be further tailored to suit all and any of your ice cream needs, enabling our valued customers to be flexible in both budget and choice.
Friendly and professional ice-cream supplier for Weddings, Shows, Private Events, Corporate Parties, Birthday Party, Anniversary, School & College Balls and any special occasion - Ice Cream Services by Mister Nice Cream Ice Cream Man in England, UK
The largest of this fleet, which is equipped with an impressive high output triple flavoured machine, eight lid freezer and large chiller. Next in line is 'Batman' who has been specifically modified for those shows and events requesting scoops or alongside hot food and drinks. The smallest and latest edition to our fleet is 'Robin'. A traditional and unique point of sale, which has proven popular with those shows and events with limited space or requesting a more conventional vehicle.
View Mister Nice Cream's new slideshow (link opens in a new window).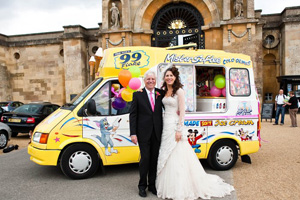 Ice Creams by Mr. Nice Cream - Your Wedding Specialist !
Offering the very best of the 'Impulse' ice cream market as well as a wide range of soft 'Whippy' style, the superb 'Magic Menu' is supplied by our 'Mobile Ice-Mobiles' is appropriate for Kids and Adult functions alike - available throughout the Summer Season at very competitive rates, delivering direct to your door or event and enjoyed by everybody!
Mister Nice Cream is a member of the 'Ice Cream Alliance' (ICA) and 'Mobiler' and of course our staff members hold 'Food Hygiene Course Certificates'... and the Company is fully registered with the local Council 'Environmental Health' Departments and has collaborated with such industry leaders as G&D's (George & Danver Ice Cream) of Oxford, Oxfordshire. With ample 'Public Liability Insurance' cover (5 million Pounds Sterling) along with 'Health and Safety Certification' and 'Risk Assessment Insurance', you can be fully assured of our credentials (we are happy to provide references from events prior that we have successfully attended over the past few Seasons).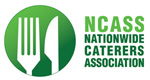 Mister Nice Cream has the
approval seal of NCASS
(Nationwide Caterers Association).

The Mobiling Site
Mister Nice Cream is
featured at Freeindex!

UK Wholesale Suppliers
Visit Mister Nice Cream,
Oxford Airport on Qype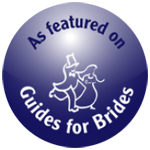 Mister Nice Cream is listed
on Guides for Brides (UK).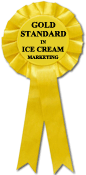 I should be obliged if you were to take a moment of your valuable time to visit our website at, www.misternicecream.com or, please feel free to contact our marketing team on 07963 056640 for up-to-date information on our exciting new range of Ice Creams Menus, and latest services provided. You could also take a moment of your time to visit our 'Gallery' featuring images from our fun packed previous years. "You've Tried the Rest, Now Try the Best!" -

Quality Ice Cream in Oxfordshire
This year we shall be further expanding our participation in Private and Social Events, needless to say, there is some danger that event dates may 'clash' over the popular periods - "Early booking is certainly recommended and much appreciated!"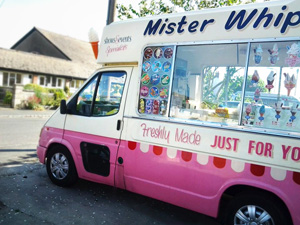 Daisy Bell - Vintage Ice Cream Van for those who prefer the 'classic'
Daisy Bell is the latest addition in Mr. Nice Cream's fleet of ice cream vans. "Daisy" is a classic vintage van especially introduced for new coverage counties of Abingdon, Bicester and Didcot but she also serves our regularly frequented areas of Oxford, Oxfordshire, Buckinghamshire, Gloucestershire, Warwickshire, Wiltshire, Berkshire, Northamptonshire and Worcestershire.
Looking forward to being of service and meeting your ice cream catering needs throughout this Trading Season (March to October) and the coming years... Please remember our company slogan:

"Large enough to cope... Small enough to care!"
" Weddings are OUR Speciality ! "

Looking forward to being of service!


Mister Nice Cream.
www.MisterNiceCream.com

"Quality ices at affordable prices, catered to every venue."
Disclaimer: Mister Nice Cream will not be responsible for any implied, authorised or misinterpretation of any Terms & Conditions and / or content / image / association whatsoever, copyright implied or otherwise with or without the express authorisation of the Managing Director in writing. Enquiries of a general nature should be directed to the Webmaster.