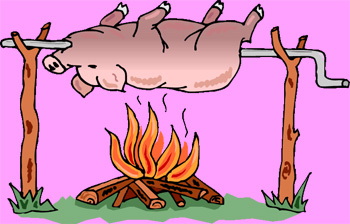 Pigging Perfect Pig Roasts
Pigging Perfect Pig Roasts is a family run outdoor catering business specialising in pig roasts and based in Oxfordshire, near Bicester. They supply Hog Roasts, BBQ's, Lamb Roasts, Salads and even Vegetarian options. They cater for any event from as little as 10 people* (60 for a pig roast). All of their catering is planned and catered by Executive Chef Simon who has over 18 years of experience in the caterer's trade. Their main aim is to remove the stress of the catering from their clients at various events and they will provide everything you need for a hassle free event.




Their standard pig roast package includes:
Whole roasted pig with crisp crackling
Chunky Apple Sauce
Floured Baps
Sage and Onion Stuffing
They provide a range of mobile catering services such as Lamb Roasts, Pig Roasts, Beef Roasts, Venison Roasts, Jacket Potatoes, Hot and Cold Salads, Vegetarian Choices and Desserts.


Mister Nice Cream strives to provide the best sources regarding Hog Roast, Pig Roast, Venison Roast, Lamb and Beef Roast mobile catering services for hire in Oxfordshire, Buckinghamshire, Gloucestershire, Warwickshire, Wiltshire, Berkshire, Northamptonshire, Worcestershire and around United Kingdom (UK) !

:: home :: magic menu :: ice-mobiles :: shows :: gallery :: contact us :: links

:: links - page 2 :: ice cream domains for sale